Transform¶
Clicking on the "Transform" icon (

) from overview displays the window that is depicted below presenting information about the different states of a mapping. To continue the transformation process select a mapping from the drop down list and click on the "Submit" button.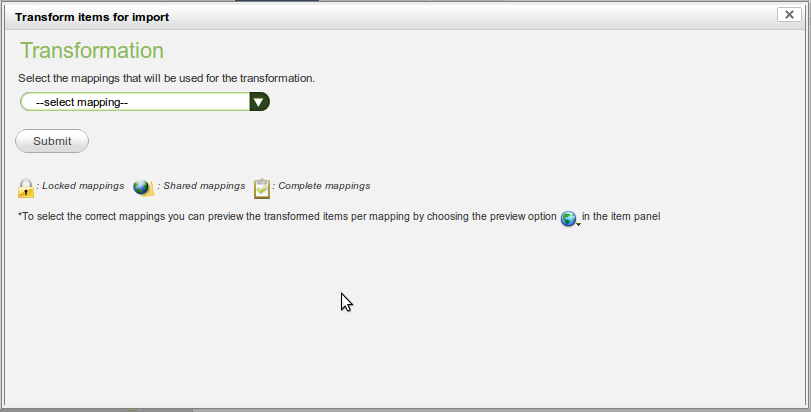 In the case where the mapping is not correct, for example mandatory mappings are missing, a modal window (as the one shown below) appears presenting the problems. This modal window has two distinct tabs presenting the missing mappings to mandatory XPaths of the target Schema and the XPaths with erroneous mappings. After reviewing the errors you can go back and either select a different mapping or correct the current one.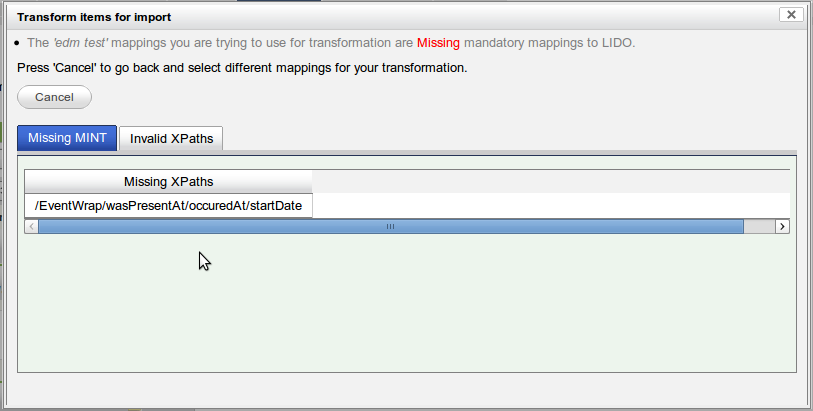 If the defined mappings are correct you will be redirected to the "Overview" tab where an animated Icon takes the position of the transform button. By placing the mouse pointer over the animated icon you will get information regarding the progress of the transformation process. In the case where an error occurs in the process of transformation a "Red X" icon appears on top of the

icon and by placing the mouse pointer on top of the icon you can review the errors that caused the transformation process to abort. In the case where the transformation ends without errors a "Blue" tick sign appears on top of the "transformation" icon and you can download the transformed items.
Review Transformed Dataset¶
After the completion of the transformation step in the MINT ingestion tool core workflow, you can review the original data together with the resulted transformed items and the generated XSLT in the "Review" tab by clicking the

for an individual item in the item browser.